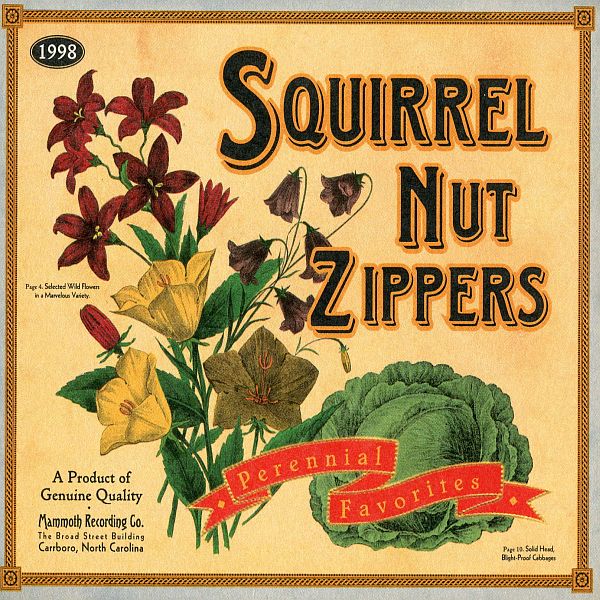 To mainstream audiences, Squirrel Nut Zippers' out-of-left-field rise in popularity (on the strength of "Hell," their 1997 alterna-pop hit) marked the beginning of the new swing movement's commercial breakthrough. Yet as PERRENIAL FAVORITES proves, the Zippers' diversity of styles evokes more than mere zoot suits and jump-blues shouters. Imagine, instead, a stew made of hot jazz, western swing and ethnic folk musics like klezmer, polka and tango--as well as brass-driven boogie--which seamlessly reflects the cross-cultural melting pot that early 20th century America aspired to be. A race-barrier-less utopia of sound.
Featured in this revue are: Jim Mathus, who plays the Al Jolson-esque part of comedic vocalist and MC, Katherine Whalen, who stars as both Bessie Smith and Josephine Baker, a female singer straddling the line between the glee of cabaret-like pop and the melancholy of 78 rpm urban blues, and Andrew Bird, whose violin evokes both ancient Jewish melodies and the lonesome sounds of Appalachia. Songs like "Ghost of Stephen Foster" and "Trou Macaq" are filled with references to ragtime, "Camptown Races" and many other touchstones of early 20th century American popular culture, updating these images from oldies to perennials. And naturally, PERENNIAL FAVORITES swings like a kool-kitty demon on a ballroom floor.



Squirrel Nut Zippers: Jim Mathus (vocals, guitar, banjo, tenor saxophone, trombone, piano, percussion); Katharine Whalen (vocals, banjo); Tom Maxwell (vocals, guitar, clarinet, tenor & baritone saxophone, gong); Ken Mosher (guitar, alto & baritone saxophone, Fender Rhodes, cymbal, background vocals); Je Windenhouse (trumpet, coronet, background vocals); Stuart Cole (bass); Chris Phillips (drums, steel drum, percussion, background vocals).

Additional personnel: Steve Watson (pedal steel guitar); Andrew Bird (violin, piano, percussion, background vocals); Emily Laurance (harp); Rick Lassiter, Don Raleigh (bass)
Enjoy!